After extensively riding the Meteor in the city, come rain or sunshine, I think I've fallen for it, especially its thump. It's like a heartbeat that constantly accompanies me whether I'm cruising down the road that runs parallel to the city's coastline or commuting through never-ending traffic. The thump sets the pace of riding and once I'm in sync with it, I don't need to look at the speedometer to know what speed I'm doing. It becomes more a matter of feeling and understanding.
And I wanted more of that sense of connection, which is why I switched from a car to the Meteor for the frequent Mumbai-Pune trips for shoots. And not just one, but every trip has been memorable and unique in its own way. I don't remember the last time I hummed and sang songs played through my phone for an entire journey. The right music, the right sequence of corners, and the ever-connected thump of the Meteor hit all the right notes.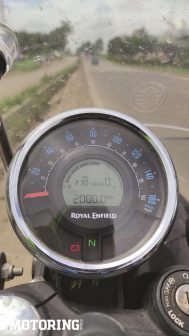 On one of the trips, the Meteor finally breached the 2000-km mark on its odometer. I don't remember the last time I was so excited about such a milestone, probably because test bikes are usually around only for short durations. So by the time I developed a connection with it, it's already time for it to go back. I hope RE conveniently forgets about it and the Meteor stays with me for the longest time. Fingers crossed.
Logging IT Out
Royal Enfield Meteor 350

Lightens you by:

Rs 2.52 lakh (on-road, Mumbai)

@royalenfield #MotoringMeteor