The Royal Enfield Himalayan that was long overdue to go back finally vacated the garage, only to be replaced by another RE, the Meteor 350. The bike has been with Kartik for a while, and if you have been keeping track of his recent Survivor reports, you'd be aware of the water-logging trials he's been facing. Taking no chances of damage to the Meteor, it only made sense to keep the bike in my covered garage, safe from any troubles. And it could not have been a better time for the Meteor to come in.
Since I hadn't been riding much apart from shoots, heading out in the evenings with the Meteor on days when it hasn't been raining has turned out to be a rejuvenating experience. Even a short spin to town, cruising on roads that run adjacent to the coast has been nothing but utter bliss. The all-new silky-smooth motor from RE that runs in the Meteor is a revolution that oozes refinement. The gear shifts are slick while the clutch action doesn't require much effort to pull in.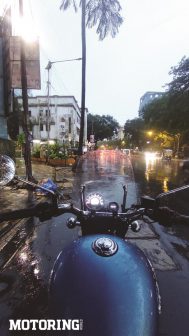 I haven't been such a fan of cruisers that I look forward to riding them, but after spending time with the Meteor, my opinion has started to change. It is also good to go easy on throttle by a few notches and enjoy the joy of motorcycling at a relaxed pace. Lastly, the Meteor has just hit reserve and is due for a tank up soon. And that is giving me ideas of hitting the highways for a nice weekend road trip. Care to tag along?
Logging IT Out
Royal Enfield Meteor 350

Lightens you by:

Rs 2.47 lakh (on-road, Mumbai)

@royalenfield #MotoringMeteor