All right, it's finally here, in the flesh, so rejoice all ye off-road junkies who have been praying at Maruti Suzuki's altar and hoping for your dreams to be realised. The Jimny is among us, packing five doors instead of the usual three, made in India for the world and itching to be let loose on the most hostile terrain you can think of — Mumbai's Elphinstone Bridge during peak traffic hours. If you think that's a joke, you've never experienced said bridge at said times — but jokes aside, Suzuki's iconic off-roader (around since 1970) is now in its fourth generation and seems to have lost none of its cred, at least on paper. It's the spiritual (and mechanical) successor to the legendary Gypsy, which when introduced here in 1985 was essentially a lengthened Jimny SJ30. Fun fact: my father directed the first TV commercial for the Gypsy in India; we also owned a soft-top Gypsy for a number of years, so I can claim to be a bit of a fanboy. The new Jimny has some rather large shoes to fill, given the Gypsy's cult status, so l was very keen to find out if it walks the walk.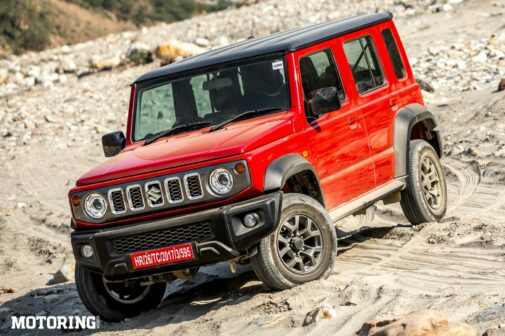 It certainly doesn't hurt that the Jimny looks as striking as it does. 'Good looking' may be a bit of a stretch, but this is a car that will make you smile every time you look at it, from pretty much any angle. It started out as a box 53 years ago and it's now… still a box, but a cuter and more cheerful box you'll be hard-pressed to find. I'm glad that Suzuki decided to not mess too much with a tried and tested design base and go all rounded edges; some things are best left as they are.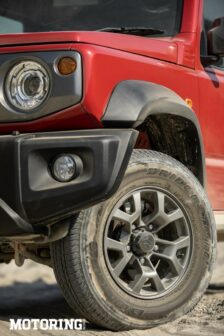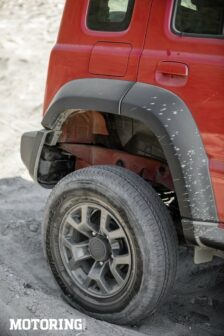 To that end, the Jimny is a testament to straight lines — belt line, windshield, character line, bonnet, doors, roof — with some concessions made to other shapes in the form of the headlights (with their own washers), indicators and wheel arches. The 5-vent grille, slightly startled headlights and nearby indicators are all borrowed from previous Jimny generations, and the upright, chunky stance gives it a no-nonsense character, as do the simple 15-inch alloys. The roof has drip rails along its sides and rear, for the fitment of carriers, and it also helps prevent water from the roof dripping onto your head when you enter or exit the cabin. The spare wheel fitted on the 5th door looks suitably badass, and before you ask, yes, the Jimny does look like a G-Wagen in profile and from the rear; there are also shades of the Jeep Wrangler in it (and therefore the Thar as well). None of this is by way of criticism; the little Suzuki still has a chirpy character all its own, especially in the bright green shade that Maruti calls Kinetic Yellow (there's a great Bluish Black shade as well). There's a symmetry to this car that's near-perfect, and from all the attention it got while I was driving it around, it's clear that its design isn't going to be a drawback.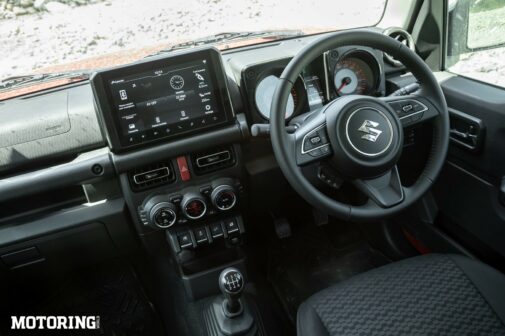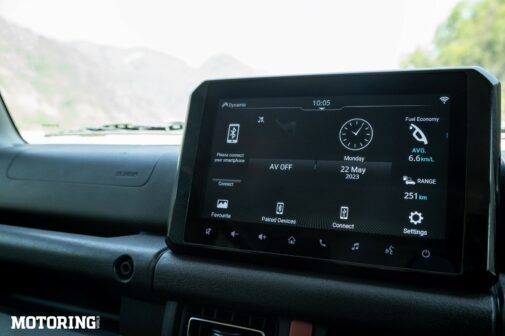 Don't expect a luxe cabin in this thing — but don't expect anything downmarket either. The Gypsy's cabin was bare-basic to the point that it made you happy it had windows, but times have changed, and that kind of sexy asceticism doesn't cut it any more. The cabin veers heavily towards functionality, but also includes (some of) the features that modern car buyers expect — 23-cm touchscreen infotainment with wireless Android Auto and Apple CarPlay, automatic climate control, cruise control, a reversing camera (absolutely essential in an off-roader), steering-mounted controls and a USB port (Type A, not C). If you want more features than this in your 4×4, you're probably shopping in the wrong segment. The instruments are proper old school and look just right for the car's character, as do the rocker switches under the HVAC controls (thank goodness there are no fidgety touch controls for these). The plastics and other materials on offer do look a little sub-par, but they should stand up to a fair amount of bashing. The steering wheel, although nice and chunky, is adjustable only for rake, not reach.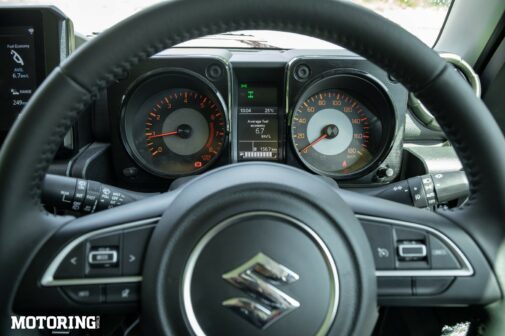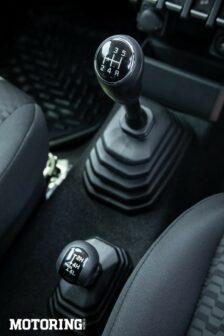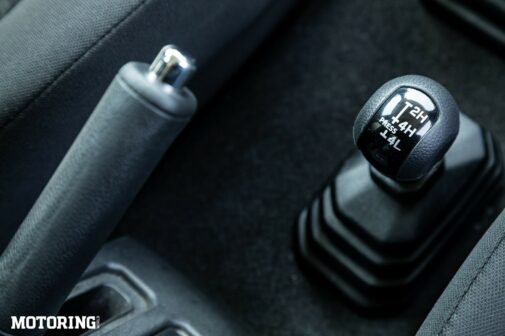 The seats are quite comfortable but a bit on the soft side, and you sit with your knees high up whether you're driving or sitting at the back — plus the driver's seat isn't height adjustable. Elbow room is at a bit of a premium, given that at 1645 mm, the Jimny is taller (1720 mm) than it is wide — two adults at the back will get to know each other quite well (even while you're driving, you'll be acutely aware of a front passenger). Head room isn't as compromised as I thought it would be, but leave your top hat at home; leg room isn't too bad, either. Five doors means that you can get into the back seat in a civilised manner, instead of having to fold yourself in half at the front doors. The Jimny's boxy nature and high ground clearance mean that the view out from the windshield is excellent, and the flat clamshell bonnet aids in this.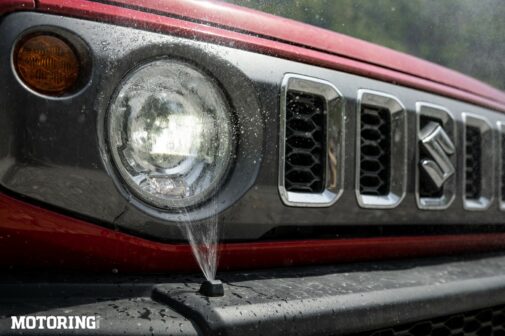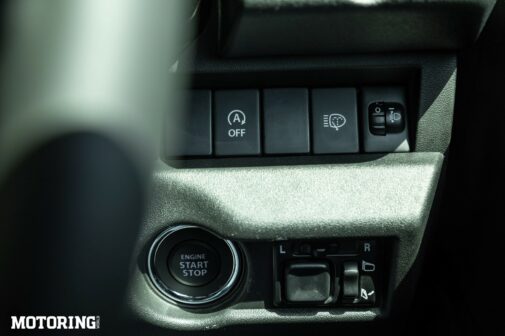 Don't bring too much stuff into the cabin, because there's not much room to stash it all. There's a small space between the front seats (rather than a box with a lid) and two cup holders behind it, a small glove box with an open tray above it and a tiny tray in front of the gear lever. When I got in, I couldn't find a slot to fit my phone, so I had to slide it into the rather slim bin in the door; that's a recipe for left-my-phone-in-the-car if there ever was one. The rear passengers will have to fight those in front for cup-holder privileges, and forget about trying to squeeze a water bottle into the door bins. With all the seats up, boot space is a petite 211 litres; you'll have to fold down the rear seats to gain access to the full 332 litres of storage.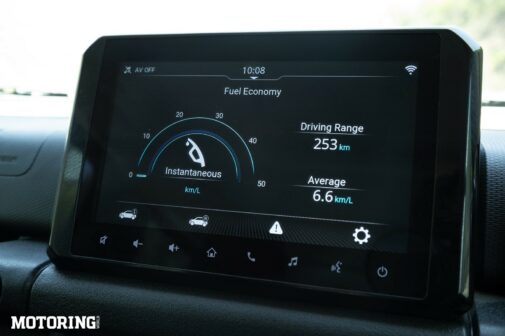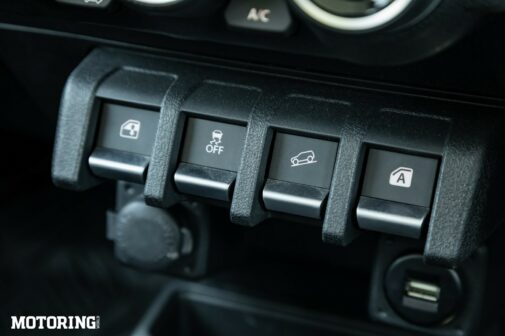 Look under the hood and you'll find a longitudinally-mounted engine — Maruti Suzuki's venerable 4-cylinder K15B petrol unit with Start/Stop — making 103 bhp@6000 rpm and 13.68 kgm@4000 rpm. Neither of these are startling numbers, but the numbers game isn't what the off-road world is necessarily about — more about that later. Drive is sent to the rear wheels via either 5-speed manual or 4-speed automatic low-ratio gearboxes, and a part-time AllGrip Pro 4WD system with low range comes as standard; a transfer case between the front and rear axles (both of which are rigid, for better articulation) lets drive go from only the front wheels to all four, when in 4-low and 4-high modes. A full ladder-frame chassis forms the Jimny's foundations, with coil-springs at all four corners doing the suspension duties.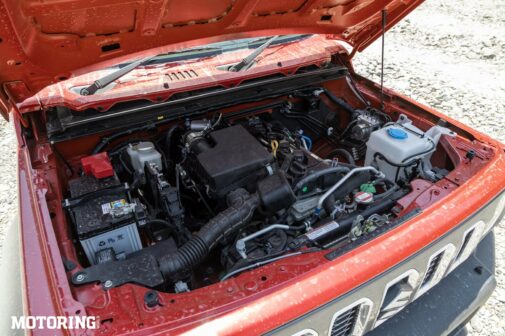 The fact that the Jimny's been purpose-built as an off-roader becomes immediately evident when you set off on a drive on tarmac, in my case the winding hill roads around Dehradun. At startup, the engine is quiet and settles into a barely-there idle, but when on the move, there's a very un-Maruti gruffness to it that becomes more prominent as you push the engine higher up the rev range — and push it you'll have to, if you want to move at anything approaching a rapid pace, which only happens post 3500 rpm. The lack of mid-range oomph means that overtaking manoeuvres, especially in the hills, have to be planned carefully, and you'd do well to not expect too much by way of outright performance; on a highway, it's best kept at just over 100 kph.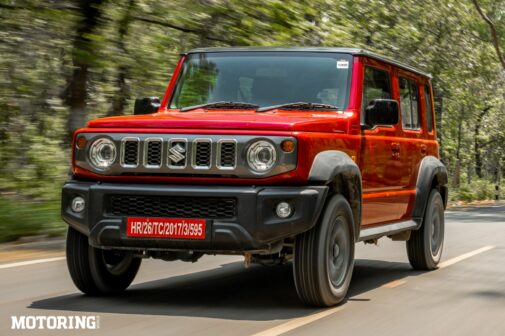 The ladder frame and rigid front axle mean that no matter how smooth the road surface, the Jimny is going to bounce around a bit, especially at low speeds; as you go faster, the ride quality becomes better because the long-travel suspension begins to come into its element. Still, the ride is springy, and when you chuck it into corners, it rolls and pitches, and hard braking makes it dive; the brakes — discs up front and drums at the back — are adequate for the road but not very sharp. The Jimny also understeers heavily, with the steering wheel feeling as vague as a politician's answers; this is largely because it gets a recirculating ball unit, not a rack and pinion system. The narrow tyres don't offer too much grip, either, so you'd be well advised to drive the Jimny in a calm fashion while on tarmac.
Additionally, if you're used to Maruti's usually sharp-shifting gearboxes, you'll take a while to get used to the 5-speed manual in the Jimny — it feels as sluggish as the steering wheel, and often I felt that I hadn't slotted it into the correct gear when in fact I had. The clutch is light, though, which is a plus, and I suspect most buyers will opt for the 4-speed automatic — which is also not the sharpest tool in the shed. Maruti claims fuel economy numbers in the high 16s for both the manual and automatic variants, but I'd take that with a little salt.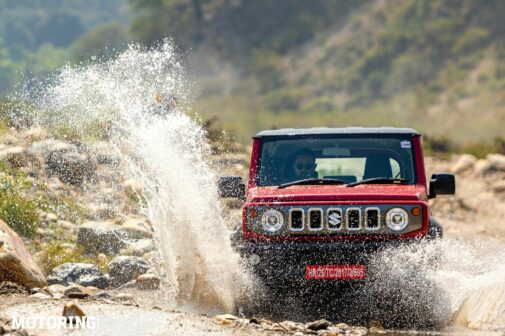 So far, so gloomy, right? Not in the least. Here's the thing. The Jimny was built with one purpose in mind — to absolutely slay extreme off-road conditions. Anything else it did was a bonus, and that continues to be the case. As soon as I took it off the tarmac and onto the off-road courses that Maruti had prepared for us, its transformation was nothing short of Jekyll and Hyde levels. Everything that makes its on road behaviour less than razor sharp suddenly moves the Jimny to another plane on the rough stuff, and you begin to wonder how the same car can have two wildly different natures. The approach to the off-road courses — set up on a largely dry river bed — was on broken, dusty roads, and I could almost hear the Jimny laugh with delight as soon as I put its wheels onto that surface. For the entire length of the descent to the river bed, I didn't even need to engage 4-low; 2-high was more than enough to dismiss the conditions, even when medium to large-sized stones were thrown into the mix, and the suspension felt like it was simply ironing out the ground beneath it.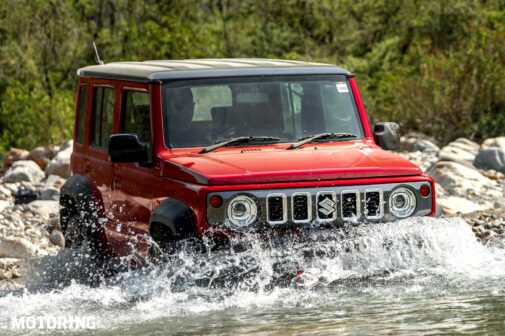 Hurling the Jimny into the different courses — water crossings and wading, inclines and declines, rock crawling — was a tremendous amount of fun, and its nimble nature (the variant I was driving had a kerb weight of just 1,200 kg) meant that even an inexperience off-roader like me didn't have to wrestle with the car; all that was required was to point, steer, gently accelerate and brake. The play in the steering wheel and the pliant suspension now felt exactly right for the conditions, and the excellent 210 mm of ground clearance and approach/breakover/departure angles of 47/24/36 degrees meant that no obstacle was too challenging for it — it clambered over everything without breaking the proverbial sweat (the same couldn't be said for me behind the wheel). The engine's relaxed nature on tarmac wasn't a demerit here, because all that was needed was measured power delivery.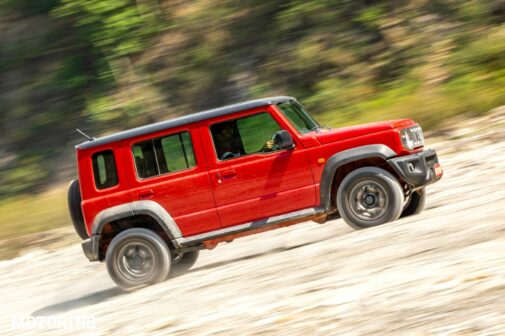 For some of the more extreme courses, shifting from 2H to 4H was a simple, on-the-fly process via the stubby selector; 4L required coming to a full halt and then slotting the lever. In these modes, the Jimny entered true mountain-goat territory, and inspired sky-high levels of confidence; anything seemed possible, be it taking a boulder-filled hair-pin bend or a slippery 80-degree descent (hill hold made this a near-automated manoeuvre). The rigid axles gave the Jimny hilarious amounts of wheel articulation — I actually laughed when I saw some of the photos — and sliding it rally-style around dusty corners was addictive to the point that I had to force myself to stop doing so. The Jimny doesn't get mechanically lockable diffs, instead using an electronic traction control system that applies the brakes on slipping wheels, thus redistributing torque to the other wheels; I can confirm that this works just fine. Through all of this tomfoolery, I felt absolutely secure inside the cabin; importantly, I didn't feel exhausted, and could have gone on all day had I not had a flight to catch.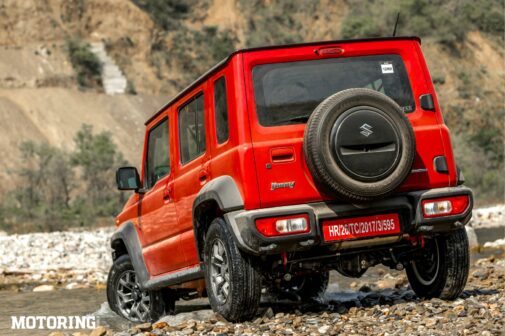 Seen purely as an urban vehicle, the Jimny is… not perfect. There are far more comfortable and confident tarmac-dwellers out there, some of them from Maruti's own stable. Safety is also a bit of a question mark as of now — although the 5-door version has yet to be tested, the 3-door Jimny received a relatively poor 3-star rating at the Euro NCAP tests and a similar rating at the ANCAP (Australia); Japan's JNCAP tests saw it get a 4-star rating, however. Both variants sold in India will get 6 airbags as standard, along with ABS, EBD, ESP, brake assist, hill hold/descent, front seatbelt pre-tensioner, side impact door beams and ISOFIX, so hopefully they'll help secure at least a 4-star rating to match the Thar.
Looked at as a complete package, however, the Jimny is phenomenal. There is no other 4×4 in the country that is this likable, compact, rugged and easy to drive, and the compromises that you'll have to make in terms of urban usability will be well worth it if you're going to take it off the road. Its price will be crucial, of course; the Thar RWD was launched specifically to counter the Jimny, and Maruti will have a tricky task on its hands when coming up with a justifiable sticker price, since high-priced Marutis have traditionally been a tough sell until the Grand Vitara came along. Regardless of its price, the Jimny is going to be a classic case of head vs. heart, and I wager that most buyers are going to go with the latter. We've waited a long time for a true Gypsy successor, and I can tell you that it's been worth the wait. Oh, and if you know what Jimny means, please enlighten me.
AUTODATA
Maruti Suzuki Jimny
POWERTRAIN
Displacement:
Max Power:
Max Torque:
Transmission:
1462cc, I4, petrol
103 bhp@6000 rpm
13.68 kgm@4000 rpm
5MT/4AT
DIMENSIONS
L/W/H (mm):
Wheelbase:
Ground Clearance:
Kerb Weight:
Fuel Capacity:
3985/1645/1720
2590 mm
210 mm
1195-1210 kg
40 litres
PRICE
Rs 12.74-15.05 lakh (ex-showroom)