Motorcycles are one of the best ways to find out that people can't do without each other. It's not every day that a new brand comes to India, which already has more than its fair share of motorcycle makers. The context for those previous two seemingly unconnected statements is formed by the neighbourly friction between the world's two largest two-wheeler markets — India and China. Zhejiang Qianjiang Motorcycle Group Co. is the company under which fly the flags of QJ Motor, Benelli and Keeway, and the latter pair has already made its way to India with Adishwar Auto Ride's Moto Vault. And when I was out riding the QJ Motor SRK 400, everyone seemed impressed with a Chinese motorcycle at last. I could almost see the jokes evaporating from their heads.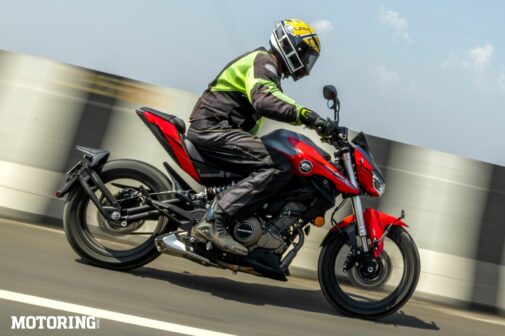 Qianjiang's mission statement on the China Chamber of Commerce website is 'European design and Japanese quality at Chinese cost'. For our country, they might as well add, 'But not in India.' The way things work here, it's never going to be Chinese cost, right? Nonetheless, the SRK 400 does hit the design and quality nails right on the head, even if the former looks more Japanese to me than European. The face, mid-section and tail looks like an amalgamation of three different Japanese design influences (can you tell which ones?), but it comes together quite well, especially in that Manifesto Red… okay, I made that up. But I certainly didn't make up the Engrish on the bike's tank. It's hilarious.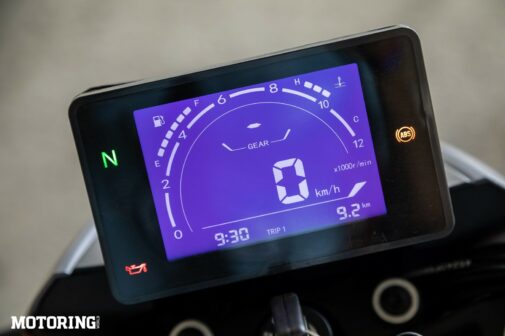 The SRK 400 is built on the bones of the Benelli TNT 300 which seems to have disappeared from existence, and I say that as non-conspiratorially as possible. Understandably, anyone is likely to look extra closely at a Chinese-made motorcycle. And when they do, they will find that the SRK 400 is quite a well-made machine. I quite like the unencumbered tail floating over the 160-section rear tyre, while the headlight looks like they elongated a Kawasaki unit in Photoshop. The SRK 400 comes with top-notch kit, too; a USD fork, twin petal discs up front, an offset monoshock, and nifty details like the LED DRLs and machined bits sprinkled all around. Basically, no one will call it shoddy, that's for sure. Instrumentation is basic and without any connectivity features, which is quite all right; Indians can be quite skittish about their data on Chinese devices, right?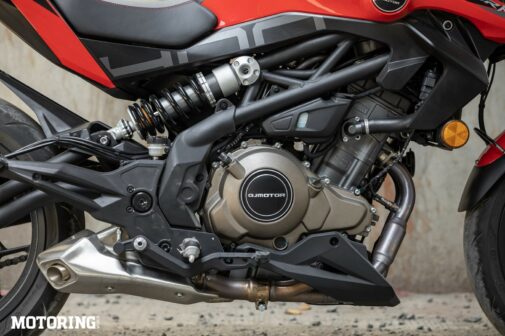 The riding position, like the bike itself, is a bit too compact for this rider who is 183 cm tall. The meter console is well placed for a quick glance, and the digital display is prone to showing some impressive numbers before you realise what's happening, too. The liquid-cooled 400cc parallel-twin is anything but a joke. With its musical 360-degree crank, the SRK 400 is one of the best-sounding motorcycles you can buy. The TNT 300's engine has undergone an increase in both the bore and the stroke to now produce 40.9 bhp and 3.77 kgm. The overall effect is that the SRK 400 retains its predecessor's rousing howl and adds even more speed to it. In fact, I lost count of the number of times the bike went for the 150-kph mark faster than China stakes claim to Arunachal Pradesh. Top speed? I saw 170 kph before running out of road. Impressed?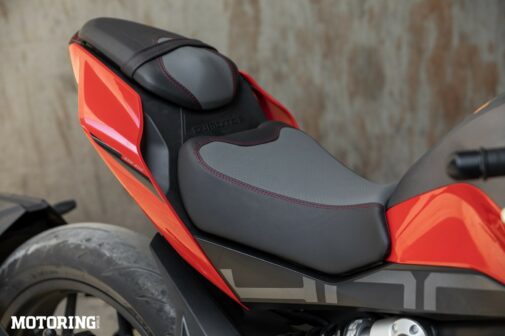 The sound is the soul of this motorcycle — a deep hum at idle, a resonant boom in the midrange, and a roar at the redline. Speaking of which, the SRK 400's overall gearing is on the shorter side, which meant that I frequently found myself running headlong into the limiter in the first three gears. Added to the dramatic nature of the SRK 400's acceleration, that did. And the bike doesn't skimp on rideability, either; it climbed up flyovers at 45 kph in sixth gear without any jerks or snatches. At cruise, it sat at 100 kph at roughly 5500 rpm; thanks to the bar-graph tachometer, it was impossible to read the exact rpm. And in mixed conditions, the SRK 400's fuel consumption was 21 kpl, making for a range of a little over 280 km. That will no doubt be better if constant redlining is avoided, though. Like I didn't.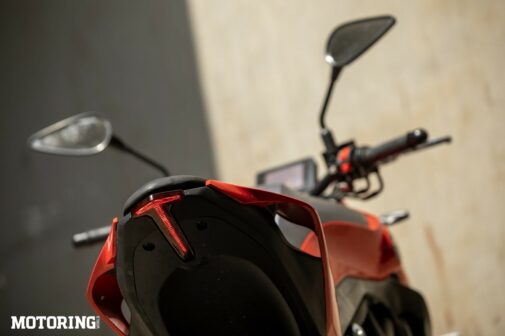 Also, thanks to the 360-degree firing order, the SRK 400 might be a bit more vibey than other parallel twins, but I thought of it more as enjoyable than annoying. Especially since the throttle response was as smooth as it gets and on par with anything else. The gearshift quality could be a bit better, though, and while the absence of a slipper clutch is an omission, I couldn't complain about it while banging down the gearbox on tarmac or on concrete. The SRK 400 kept its wheels in line quite impressively, with only the tiniest of twitches at times. That said, it would be nice to have one, especially when much cheaper bikes get it nowadays. They only need to ask Taiwan nicely.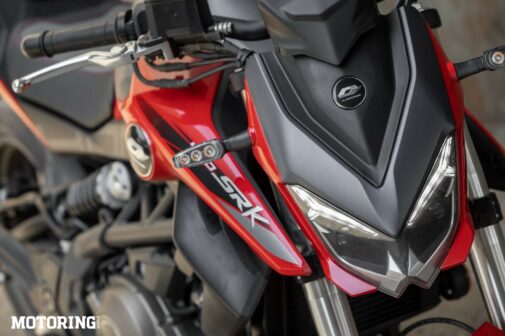 The suspension was taut but cushy, and did its job rather well. The front and rear ends were well matched, which made for a smooth progression in corners, even the bumpier ones. The SRK 400 was nimble in traffic and stable at its easily acquired speed, too. However, the seat was hard enough to make my own rear end hurt after an hour of riding. And the pillion seat is only enough for a lunch box or a Hobbit if you know one. I also didn't quite like the feel of the brakes; the lever felt a bit wooden with no feedback, and ABS calibration was clearly off by a mile. Also, the stock tyres let me use about 70 per cent of the SRK 400's dynamic ability — as far as I could tell, that is. The rubber inspired little faith in anything other than a straight line, and the rear tyre liked letting go a bit too much for my liking. Quite unlike the iron-fist approach QJ's homeland is known for, then.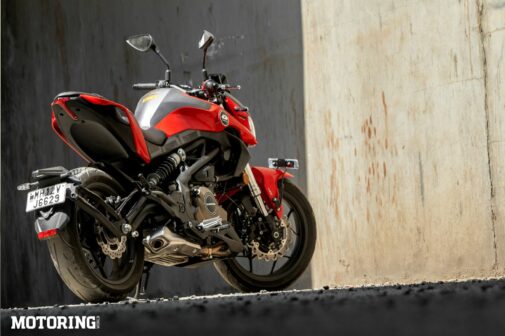 Anyway, challenges for QJ Motor continue in the same vein as Benelli: maintaining quality of the machines and of after-sales service, continuing to expand its footprint in India, and reducing cost even further. Moto Vault is doing its best in all these regards, and has opened 12 outlets in India so far. However, remember the bit at the beginning about people finally being impressed with a Chinese motorcycle? When they heard the price, the general reaction were phrases like 'digging their own grave', 'that's too much', and 'whaaat, nooo'. Perhaps the SRK 400 does ask too much, coming as it does from an unknown entity. Still, as surely as capitalism and communism rely on each other, fun motorcycles are the best bridges in existence — and the SRK 400 is certainly one of them. Chinese motorcycles hitting it off in India — that'll be the day, indeed.
MOTODATA
QJ Motor SRK 400
POWERTRAIN
Displacement:
Max Power:
Max Torque:
Transmission:
400cc, parallel twin
40.9 bhp@9000 rpm
3.77 kgm@7500 rpm
6-speed
CHASSIS
Type: Arch bar truck frame
BRAKES
F/R: 260-mm twin discs / 240-mm disc
TYRES
F/R: 110/70 R17 / 140/70 R17
DIMENSIONS
L/W/H (mm):
Wheelbase:
Ground Clearance:
Seat height:
Kerb Weight:
Fuel Capacity:
2080/820/1085
1425 mm
150 mm
785 mm
186 kg
13.5 litres
PRICE
Rs 3.59 lakh (ex-showroom)