Conversations that ensue when the general public witness a new motorcycle on the road generally tend to be interesting, especially when someone asks where the company originates from. It is also hilarious to witness half the crowd try and slink away on the mention that it's a Chinese company that manufactures the motorcycle. This is no surprise, considering Chinese companies still don't really instil a lot of confidence in consumers when it comes to product quality and reliability, among other factors, but that is no reason to disregard them altogether.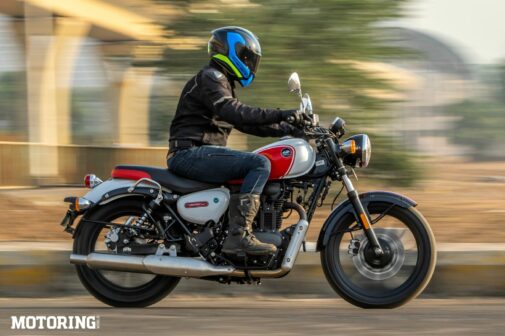 This was exactly what happened when I was out riding the new QJ Motor SRC 500. I had stopped at a red light when the guy next to me tapped on my elbow and asked me what bike it was. When I told him about it, he pointed out that it looked very much like the Benelli Imperiale, and to be fair, it basically is the same thing with a few updates, the major one being the upgrade in engine displacement. It also has a new fuel tank, alloy wheels, a dual-pod LCD instrument cluster unit, and a single-piece seat with a dual-tone seat cover. He ended that interaction by stating that the Chinese are copying everything these days and slipped away before I could tell him that Benelli is in fact owned by the Qianjiang Group.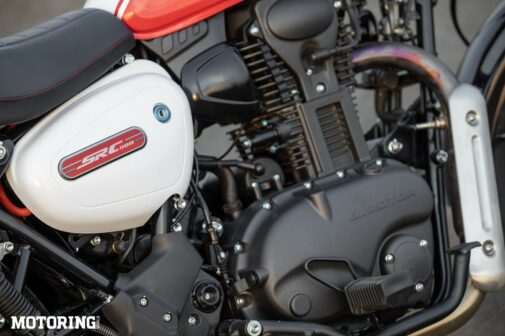 Anyway, back to the matter at hand, the retro-modern motorcycle from QJ Motor, brought through its Indian partner, Adishwar Auto Ride India, does its bit to look the part. With just enough chrome bits around the motorcycle, and the pleasing thump emanating from the peashooter exhaust, the single-cylinder 500cc motorcycle does set a pretty good first impression. The red and white paint scheme is also pretty easy on the eyes, as is the overall silhouette. Upon closer inspection though, there are a few chinks in the armour, like the quality of the fit and finish in certain places, and a lack of functions and features on the instrumentation that would be seen on motorcycles in this price range.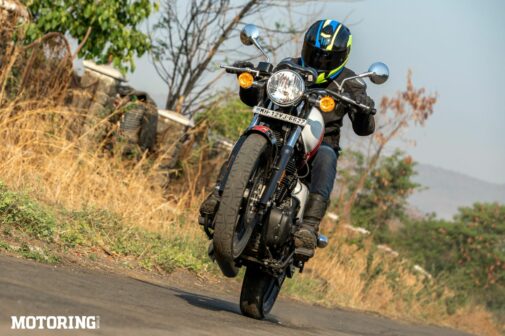 Coming to riding ergonomics and overall comfort, the SRC 500 does put up a good show with a comfortable riding triangle. The flattish handlebar is well within reach, and the positioning of the footpegs is also spot-on for a fairly relaxed ride. While it weighs in at 205 kg on paper, it feels unassumingly light while on the move, and is rather fun to ride. The suspension does a great job of ironing out most irregularities in the obstacle-ridden roads of Mumbai. One finds that vibrations tend to start creeping into the handlebars and the footpegs at higher speeds, and handling takes a bit of a hit too, which is a letdown.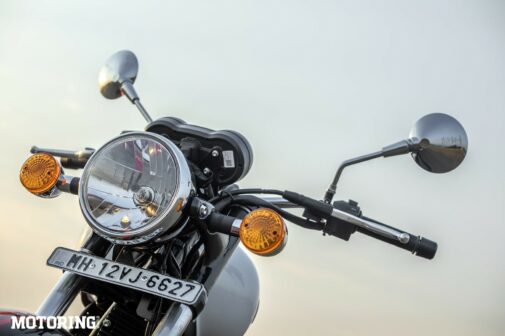 The engine is quite peppy and delivers quite a bit of power, resulting in quite a few happy instances on one wheel. Other than that, it loses out on the confidence to go faster, courtesy of the brakes and tires, which don't do the motorcycle any justice. This is something that has always bothered me, when the sub-par brakes rob the motorcycle of so much, in terms of confidence. No matter how wonderful a motorcycle's engine is, one can only push it as far as the brakes are capable of bringing it to a halt safely.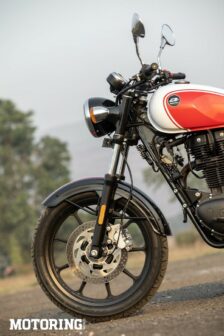 In this case, the brakes on the SRC 500 feel wooden and lack bite when applied. The dual-channel ABS feels nonexistent, and I did feel the rear lock-up upon hard braking. That is another thing that has been noticed to apply across the spectrum of these bikes. The ABS calibration tends to be either non-existent or extremely intrusive, in some cases. There seems to be no decent middle ground. I would also suggest curbing one's enthusiasm before hurtling into corners, lest one acquire a taste for gravel. The gearbox could also do with a bit of refinement, as it does feel rather clunky at times.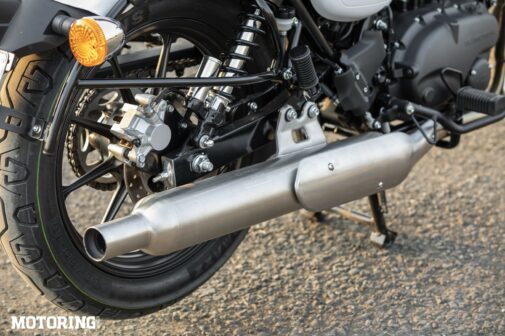 All this said, it is not a bad motorcycle, it's just that it tends to misbehave at times, and it depends on the kind of rider who will take it upon themselves to get it in line and make it do what is asked of it. Then again, it is a decent motorcycle for more laid-back riding, with good riding ergonomics, and more than enough grunt in the mill for short instances of excitement. Now, the part that doesn't make much sense is the pricing, which sits at a hefty ` 2.69 lakh, putting it at an unfair disadvantage with other motorcycles from established brands in the market. Secondly, there's also the issue regarding the dealer and service network, which is very restricted and would pose an inconvenience to owners.
If one is willing to live with all of these issues and turn a blind eye to the obvious shortcomings of this fun and impish retro motorcycle, then, by all means, go for it. If this sounds like too much to handle, then look away immediately before it entices you and reels you in.
MOTODATA
QJ Motor SRC 500
POWERTRAIN
Displacement:
Max Power:
Max Torque:
Transmission:
480cc, parallel twin
25.15 bhp@5750 rpm
3.67 kgm@7000 rpm
5-speed
BRAKES
F/R: 300-mm disc / 240-mm disc
TYRES
F/R: 100/90 R19 / 130/80 R18
DIMENSIONS
L/W/H (mm):
Wheelbase:
Ground Clearance:
Seat height:
Kerb Weight:
Fuel Capacity:
2170/820/1120
1440 mm
155 mm
800 mm
205 kg
15.5 litres
PRICE
Rs 2.69-2.79 lakh (ex-showroom)