If you have the half a crore you needed just lying around to buy this motorcycle, it is highly unlikely that you are reading this story. I say this because people with that kind of spending power have chucked away the aspect of rationality from their minds a long time ago. And if you thought that was an insult, well it isn't, not even close. Instead, it seems to be the only rational way to introduce the motorcycle that's shown on these pages. To a mind not steeped in affluence, it would make more sense to buy five motorcycles, each with its own purpose, right? If you agree with that, the Indian Roadmaster Dark Horse surely isn't the motorcycle meant for you. Everything about this motorcycle is so grand, that any kind of logical reasoning has no place here.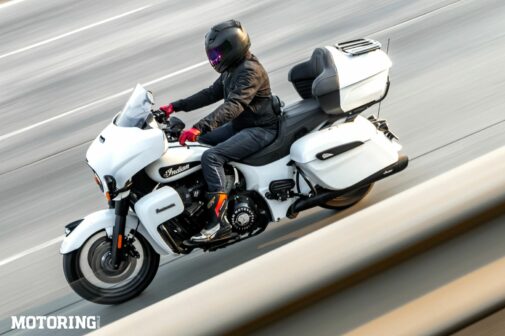 And it shouldn't be, because every inch of this motorcycle is covered in oodles of grandeur, luxury, comfort, power, and so much more. The very presence of the motorcycle in itself can leave everyone in close vicinity awestruck, thanks to its sheer size. Unlike most motorcycles of its class that are heavily dipped in chrome with candy-glazed painted surfaces and exposed mechanicals, the Roadmaster Dark Horse does it differently, or rather, goes in the opposite direction. All components that would usually be chromed are finished in matte black, while the motorcycle's painted surfaces are finished in matte pearl white livery, which, in my opinion, looks more badass and draws even more attention.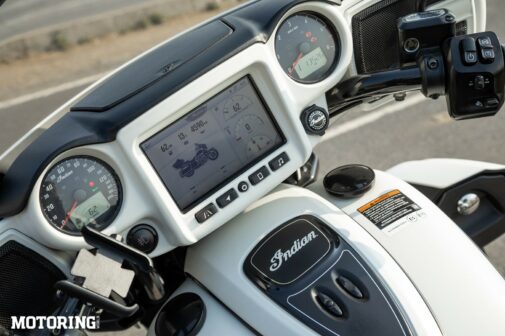 I got onto the bike very, very early in the morning and even in the darkness, the Dark Horse looks so beautifully intimidating, it almost inspires hate. Given its proportions, it has a huge expanse of flowing bodywork, the batwing front fairing, lower fairing, and the saddle boxes and the top box. The front fairing has an integrated massive windshield that is electrically adjustable to deflect the wind blast away from the rider. Yes, it's very helpful and necessary when riding this motorcycle because of the kind of speed that it is capable of.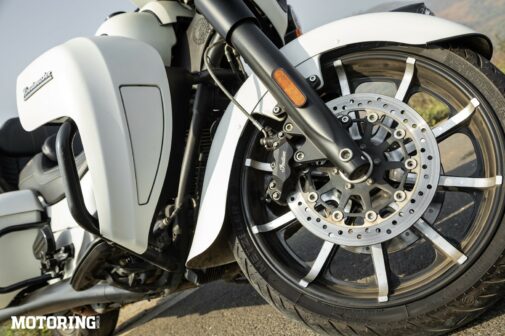 Yes, you read that right. This is a fast motorcycle. However, it isn't the speed that amazes you, but how it rides from the moment you get rolling. Despite its gigantic proportions, the Roadmaster Dark Horse is surprisingly nimble. It was only a matter of time until I got accustomed to the large proportions and I was able to thread through gaps, and lean the bike into corners with confidence. The chassis is balanced so well that all the weight that's felt from the time of taking the bike off the kickstand simply vanishes as the wheels start rolling.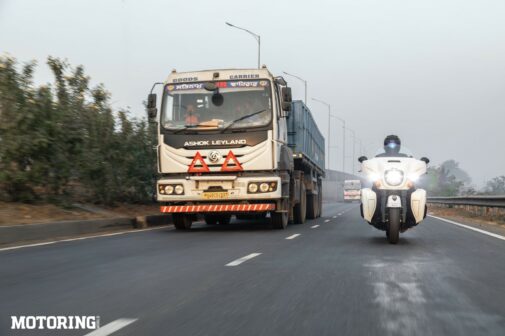 Contributing and uplifting that feeling even more is the V-twin from Indian, which can arguably be considered the master of V-twins today, especially in the areas of linear performance and refinement. Yes, Harley-Davidson's Milwaukee Eight motor probably has matched it on these parameters today (wait for a comparison story, will you?) but the way the Dark Horse does all of it while being singular, like one solid chunk, is something that only Indian has managed to pull off. It doesn't matter how you ride the Dark Horse, it simply adapts to it and rewards you all the way.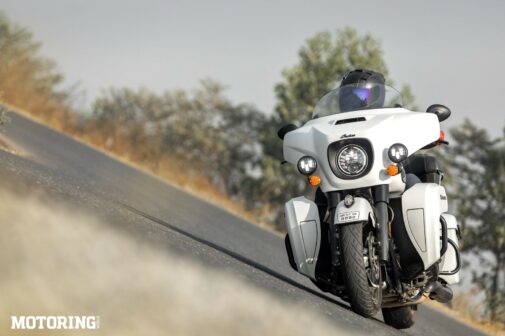 The gigantic fuel-injected 1890cc Thunderstroke air-cooled V-twin packs a colossal 17.43 kgm available at 3000 rpm. Think of it as the motorcycling equivalent of a diesel SUV, which it isn't, despite whatever its looks suggest. To provide some perspective, the Roadmaster Dark Horse weighs 403 kg, with the rider and pillion, along with a weekend's worth of luggage, and it still has the power to chase speeds of 160kph, which is ridiculous for the motorcycle that it is. I'm quite surprised that Indian chose to give it a 180/60 R16 rear tyre because this is the kind of torque that can shred rubber in no time.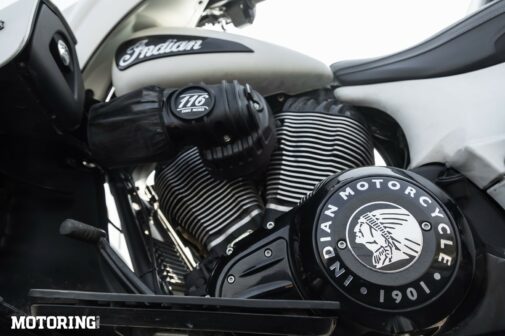 What this specification translates to on the tarmac is even more impressive, though. Thumb the starter, and the motor sparks to life with an audible exhaust note that settles as the motor warms up to operating temperature. While the motorcycle emitted a muted, yet delightful, roar at cruising speeds, the feeling of freedom comes in stronger with every upshift of the 6-speed gearbox. To enjoy that feeling, a lot of it must be duly credited to the incredible level of comfort that the Roadmaster Dark Horse has to offer. Besides having a roof above, the seats on this motorcycle are more comfortable than some of the premium cars in the market. The ergonomics are simply spot-on, and while I am not much of a fan of cruisers, this level of comfort is something I don't mind getting used to.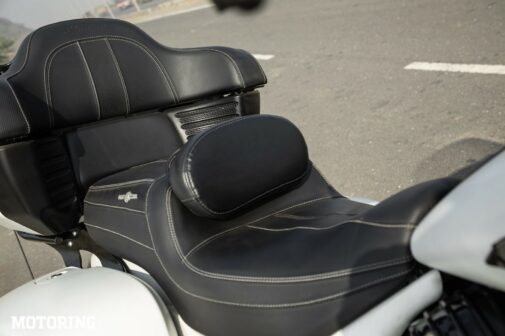 Besides the level of comfort that the Roadmaster fetches for its price tag, what Indian has also made it a point is to never compromise on quality levels. Right from the fit, finish to the features, tech, and audio system, everything is top-notch. Every single panel looks and feels as if it has been tailored to perfection and christened with the Indian logo at every suitable spot.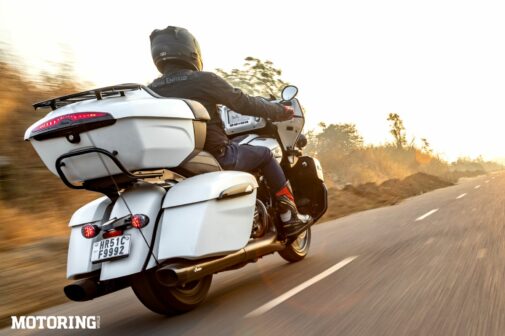 All things considered, the Indian Roadmaster Dark Horse, if not for the fantastic full-sized cruiser that it is, is all about making a statement of power and dominance, which it pulls off with absolute finesse. Yes, for its price tag one can fill up an entire garage with all sorts of motorcycles. On the flip side, the only other option would be to have an SUV, in which case you can say goodbye to exclusivity, or buy a matchbox apartment on the outskirts of the city. The Dark Horse is one of those dream machines that runs over all norms of rationality. And thank God for that. Oh, I forgot, if you were going to buy the Dark Horse, you wouldn't be reading this story.
MOTODATA
Indian Roadmaster Dark Horse
POWERTRAIN
Displacement:
Max Power:
Max Torque:
Transmission:
1890cc, V-twin
NA
17.43 kgm@3,000 rpm
6-speed
CHASSIS
Type: Steel tubular frame
BRAKES
F/R: 300-mm twin disc / 300-mm single disc
TYRES
F/R: 130/60 R19 / 180/60 R16
DIMENSIONS
L/W/H (mm):
Wheelbase:
Ground Clearance:
Seat Height:
Kerb Weight:
Fuel Capacity:
2593/1022/1415
1668 mm
140 mm
673 mm
403 kg
20.8 litres
PRICE
Rs 43.15 Lakh (ex-showroom, India)