It began with the usual strained-sounding starter motor sparing no effort to get two big pistons moving. And then the Testastretta 11° L-twin erupted to life, idling with the loudest murmur this side of a Himalayan river. A few seconds later, I found myself travelling at a speed that can only be called indecent, chin on the tank, swept away by a relentless surge of time-honoured twin-cylinder torque generated by a raging mechanical symphony. Out of habit, I glanced at the rearview mirror. The road behind was a watery blur, and my senses were awash with Desmodromic vibes. And it was all headed by the Panigale-inspired nose that split the wind on its way to a fast-approaching corner.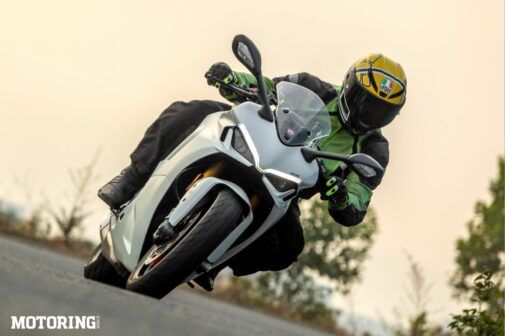 An instant later, I sat up and tapped down on the gear lever a few times; the resultant booming bangs from the twin side-stacked pipes would've made people duck for cover if any were around. The Ducati SuperSport 950 S carved a clean line through the bend; part throttle at first, then full gas at the exit, with seamless electronics softening the eagerness of my right hand — and I realised that I was happy to be back on a Bolognese twin again. 'Why would anyone want more motorcycle than this?' I wondered throughout the week I spent with the SuperSport, and came up with no clear answer. As is the case with most Ducatis, this one is a special machine, indeed.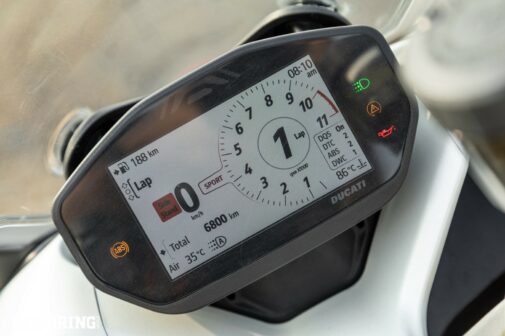 The SuperSport follows in a long line of twin-cylinder sportsbikes that began in 1974, and which have been called Super Sport, Supersport and SS over the years. That's the lineage and history boxes ticked, then. It has that typical Ducati character thanks to the Desmodromic valve train. And yet, I don't see anyone lust after it, at least in India — somehow, the Multistradas, Diavels and Panigales keep flying out of the red showrooms. The SuperSport sure does provoke some indignant disbelief on its own behalf. Even if the one I rode wasn't red, as I like my Ducatis. Nonetheless, that didn't diminish its appeal much at all.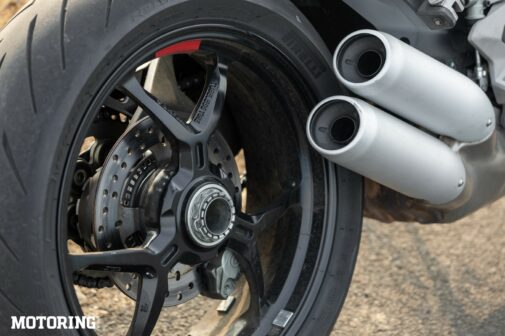 A red trellis frame, a single-sided swingarm, a 90° V-twin, space-age electronics and fully-adjustable Ohlins suspension — that right there is an exotic Ducati. The SuperSport is an old-school feeling with space-age parts, both mechanical and digital. And unlike most hyper-Ducatis, it's very much at home in the place we spend most of our lives — the real world. Even with Sport mode settings toggled to max, the SuperSport was a friendly machine around town. The up-and-down quickshifter worked like a charm, the riding position was sporty but comfortable, and the seat was a generous unit; all of these factors combined with the tractor-like torque made the SuperSport a very easy machine to live with at everyday speeds. However, the Ducati also made it very clear at all times that it'd rather spend its life above 5000 rpm. It's what a Ducati does and should do, by all means.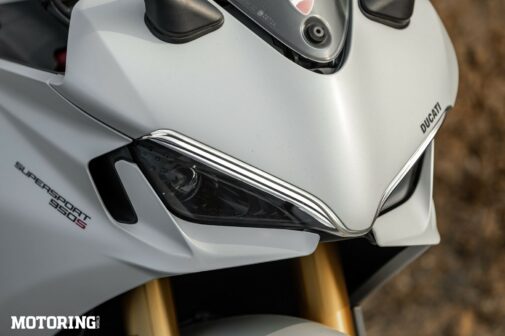 With 110 bhp and 9.48 kgm of L-twin torque, the SuperSport felt like it was always poised to strike. And that riding position made sure that I was always ready, too. Speed was just a moment of decision away, and if I chose to indulge in it the SuperSport responded with all the right sensations in every direction. The bike did everything with a sense of total control, too; flat-out sweepers were bombed through with poise and precision, the brakes were strong without being overwhelming, the Pirelli Diablo Rosso III tyres were incredible once warmed up, and even the ride quality was supremely comfortable over everything at all speeds. I found myself struggling to find fault with the SuperSport — heck, even the pillion seat is more generous than some commuters!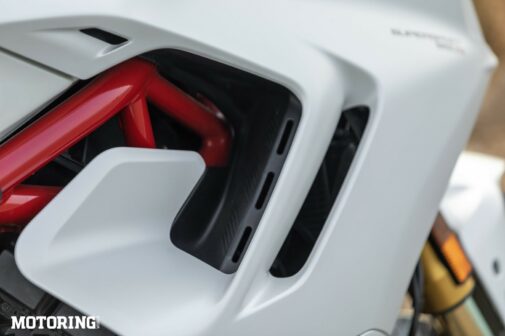 Okay, so the motorcycle's tail did look unfinished; it would've been great if Ducati had transferred some of the front end's Panigale treatment to the rear as well. But the abilities brought forth by the six-axis IMU meshed with the mechanical clicks, whirs and whines of the Desmo twin made it difficult to do anything but fall for the SuperSport's very obvious charms. After fidgeting around for a bit, I didn't even bother with the riding modes; I simply stuck it in Sport and left it there, soaking in the sounds and feelings of a machine clearly meant to be an everyday exotic. And the traction control, cornering ABS and wheelie control ensured that the SuperSport remained rubber side down in a most reassuring manner. Reassuring, yes, but not devoid of insane thrills, mind you.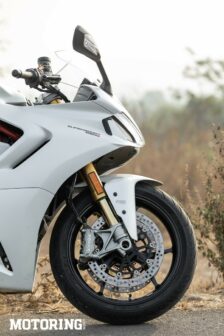 The SuperSport does 0-100 kph in a little over 3 seconds and blasts the 200-kph mark with violent ease. In fact, it'd be scary were the bike not as friendly as it is. And it was this amiable nature that ensured that I was working with the bike, not against it or vice versa. Getting along well with a bike is the key to going fast, and I imagine that a rider who's feeling it might just sail past a Panigale or a Streetfighter on a twisty road. The fact that this possibility exists in such a versatile motorcycle only highlights how flexible this package is. I wonder how I'd feel if I rode it alongside the Multistrada 950 and the Hypermotard 950, though, and that's a story I look forward to doing.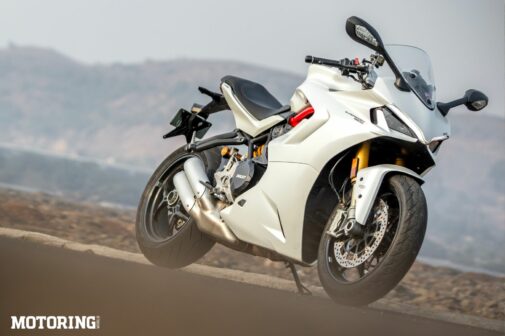 Ultimately, the SuperSport finds itself in a unique position that might also be a bit tricky. Its strengths are obvious — it's fast, friendly, engaging, and possesses everyday versatility, even if the rear cylinder is severely interested in cooking the lower parts of the rider's body. All remains well if you keep it above 40 kph, though. It is also beautiful and exceedingly well made, except for the handlebars' fondness for trapping my thumbs against the tank at full lock on either side; just a friendly reminder that this is an Italian sportsbike, after all.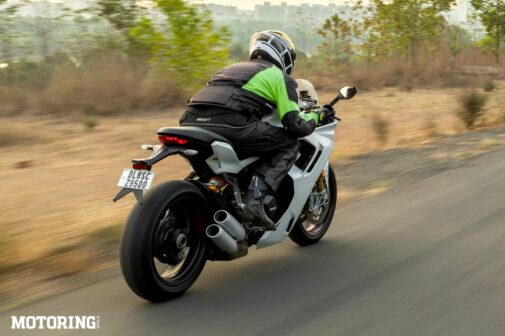 The SuperSport is a motorcycle that brings out all the right emotions. But perhaps being the shadow of Ducati's hell-breaking machines doesn't do it any favours. And that price certainly doesn't help its case, either. In any case, whether as a left-of-field choice or as a rare correct decision, the SuperSport is full of moments in which variables have a way of lining up and falling into place to set free the spirit of Borgo Panigale. And when that happens, the SuperSport is nothing but magic.
MOTODATA
Ducati SuperSport 950 S
POWERTRAIN
Displacement:
Max Power:
Max Torque:
Transmission:
937cc, L-twin
110 bhp@9000 rpm
9.48 kgm@6500 rpm
6-speed
CHASSIS
Type: Tubular steel trellis frame
BRAKES
F/R: 320-mm twin discs / 245-mm disc
TYRES
F/R: 120/70 ZR17 / 180/55 ZR17
DIMENSIONS
L/W/H (mm):
Wheelbase:
Ground Clearance:
Seat height:
Kerb Weight:
Fuel Capacity:
NA/NA/NA
1478 mm
NA
810 mm
210 kg
16 litres
PRICE
Rs 18.39 lakh (ex-showroom, Mumbai)