A Bajaj employee who probably prefers to remain unnamed rattled off different types of bread to me: plain bread and butter, garlic bread, unsalted bread, sourdough, and so on. This was in response to a question — why so many Pulsars? I was compelled to ask this because of a comparison sheet handed to me which featured the 11 Pulsars on sale in India right now. Then again, the Pulsar isn't just about India anymore; seeing how many countries the Indian-born name is sold in, it makes sense for Bajaj to have different breads in its basket. And the Pulsar NS series sells twice as much abroad as it does in India which is a number that the company can't ignore.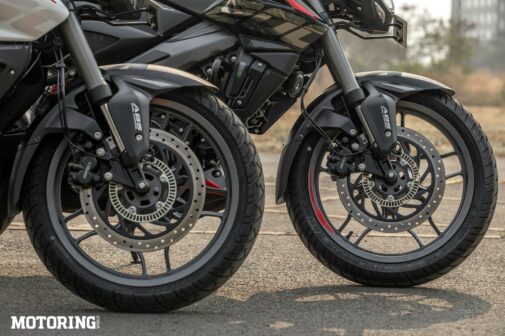 Eleven years after I first rode the NS200 at Chakan, Bajaj asked me to go back and ride the latest iteration of this bike along with the NS160 which has also gotten similar updates. The most striking change is the USD fork on both the bikes, and the new black/red/grey and white/red/grey paint schemes. The bikes also get new readouts for fuel consumption including a distance-to-empty one which is always a handy feature, and both bikes are ready for compliance with the imminent OBD2 regulations. Finally, the NS160 gains 1 kg, while the NS200 is lighter by 3 kg, and both get new wheels and bigger brakes from the Pulsar 250s. That's about it for the changes, and you may be right in thinking that the phrase 'too little, too late' may be way too mild in this case.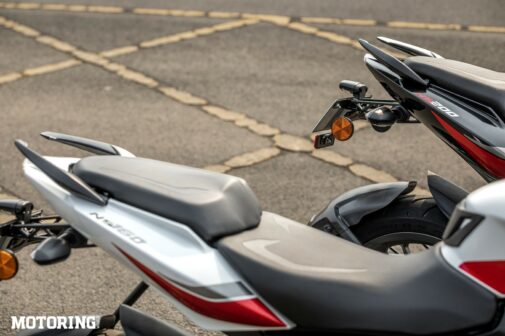 However, Bajaj insists that as long as riders around the world buy and enjoy its bikes, it will continue to make as many Pulsars as it needs to. Different strokes for different folks, as they say, though any agreement on my part will be grudgingly so. Visually, both the NSes retain the handsome lines of their respective originals, though both look to me like they're greying a bit. Time does that to the best of designs, no? It is very much possible that most people out there don't agree with me, though. And a lineup of 11 might make it easy to lose track of what's what, too, I imagine.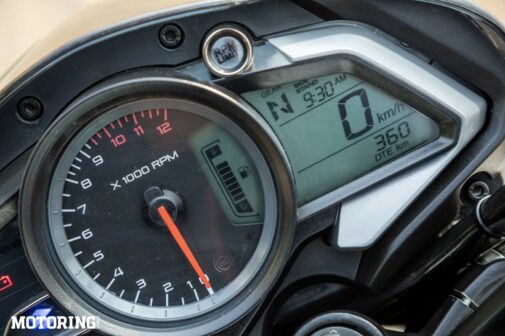 What is also easy to discern, though, is that both the NSes are fun to ride — Bajaj could never be accused of making a boring bike, and thankfully that trait continues. If a high-revving nature and a 6-speed gearbox are non-negotiables for you, then the NS200 is still the only Pulsar that offers those. The 200 Duke-derived engine did make noises that I think are no longer acceptable in 2023, but it still showed me a reasonable 140 kph on the Chakan test track with me crouched as best as I could. Sitting upright on the same stretch shaved a clean 10 kph right off the speedometer. It was reasonably refined as well, though the gearshift still reminded me of Pulsars of yore; it was prone to misshifts and overall feel was still a bit too crude for my liking.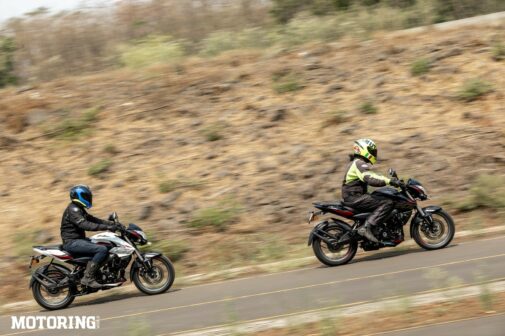 The NS160 certainly felt better to ride; it was smoother and more linear, and it had a better response in the lower and mid-range. The lack of a sixth gear wasn't as telling as you'd imagine, either, and the NS160 could sit at triple-digit speeds without feeling unduly stressed. Both the NSes also benefit from the bigger brakes and new front end; they feel more surefooted and substantial up front, even if the monoshock might need a preload adjustment to match the front end to the rider's weight. Ride quality, as is usual Bajaj fare, was plush enough to make both bikes all-day machines. Overall, these are still good bikes, even if they're a bit rough around the edges and are now clearly showing their ages.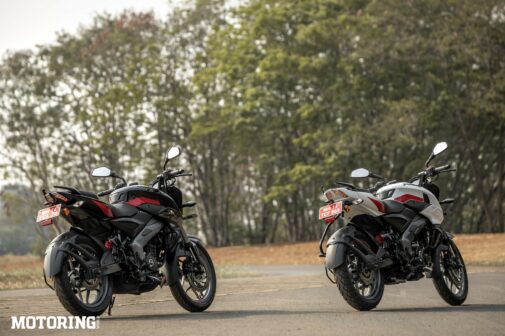 What the NSes also show me is that Bajaj's strategy, even though it's as global as it is, is a bit like the dough spilling out of the bakery. That's not the kind of runaway success Bajaj needs, but it looks like it's left with no other choice right now. Instead of making two or three truly special Pulsars, the company has to sell the name to as many people as possible on as many bikes as possible in as many countries as possible. Then again, I suppose that's exactly what you do with bread.
MOTODATA
Bajaj Pulsar NS160/NS200
POWERTRAIN
Displacement:
Max Power:
Max Torque:
Transmission:
160cc/199cc, single
16.96 bhp@9000 rpm/24.16 bhp@9750 rpm
1.48 kgm@7250 rpm/1.90 kgm@8000 rpm
5-speed/6-speed
BRAKES
F/R: 300-mm disc / 230-mm disc
TYRES
F/R: 100/80 R17 / 130/70 R17
DIMENSIONS
L/W/H (mm):
Wheelbase:
Ground Clearance:
Seat Height:
Kerb Weight:
Fuel Capacity:
NA
1372 mm / 1363 mm
170 mm / 168 mm
807 mm
152 kg / 158 kg
12 litres
PRICE
Rs 1.34 lakh / Rs 1.47 lakh (ex-showroom, Delhi)