Having spent the better part of last year pottering around in the turbo-petrol Hyundai Aura, I was keen to get an upgrade this year. And so, when the Verna came along, I was not complaining at all. In many ways, it felt quite easy to progress to the Verna. The cabin is quite familiar, the sound system is brilliant, the infotainment cluster is crisp, and the driver's seat is quite comfy. I never knew how integral cooling seats would be to my life, especially when returning from midday shoots in blistering heat.
I do miss the old turbo spool from the Aura's three-pot mill, but my bank account doesn't. The Verna sips fuel more conservatively, returning close to 16 kpl when driving sensibly. The engine is way smoother and the slick 6-speed transmission is a boon when you want to munch miles. Even its ride quality is plush, gliding over most major road imperfections.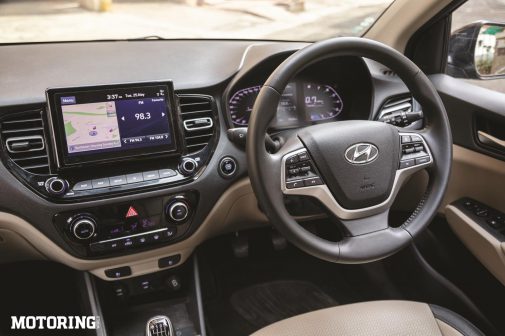 It is not without its flaws, obviously. Rear-seat space is lacking, with no real under-thigh support, and I've also heard complaints about poor rear-seat ventilation. The central rear vents are incapable of providing ample cooling, which becomes discomforting on long journeys. Lastly, the clutch pedal is a bit heavy and not progressive enough. Hopefully, the clutch setting can be sorted out with a bit of TLC.
Sadly, this was before the lockdown period kicked in. And speaking of kicking, a couple of days before this lockdown began, I suffered a football injury, shattering the ACL and meniscus in my right leg in the process. So as I recuperate, and with the Verna due to go back in the near future, I know my time with it might be already over.
Logging IT Out
Hyundai Verna

Lightens you by:

Rs 12.97 lakh (on-road, Mumbai)

Odometer reads:

10,620 km

@HyundaiIndia #MotoringVerna